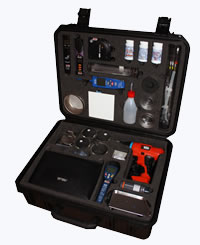 IBIX Mobile Lab® ST01 is a comprehensive & versatile portable laboratory to ana-lyse and diagnose historic building materials in an easy and clear manner. By using this equipment the basic techniques to categorise natural and artificial stones as well as degradation phenomena are made available to all those working in cul-tural heritage preservation. 
The methods of analysis used comply with both Italian and European regulations by UNI-Beni Culturali (Cultural Heritage) and EN-Conservation of Cultural Property respectively. The equipment features a multilingual user interface. 
IBIX Mobile Lab® is a must to efficiently manage cultural heritage throughout the entire conservation process, from the fact-finding project to the conservation itself, paying special attention to programmed maintenance.