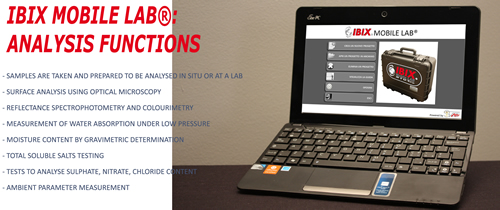 Samples are taken and prepared to be analysed in situ or at a lab
Surface analysis using optical microscopy
Reflectance spectrophotometry and colourimetry
Measurement of water absorption under low pressure
Moisture content by gravimetric determination
Total soluble salts testing
Tests to analyse sulphate, nitrate, chloride content
Ambient parameter measurement
The dedicated software developed by START Apps S.r.l. controls all opera-tions. It also guides the operator, step by step, on how to carry out chemical-physical tests in order to obtain objec-tive results. These results will help designers, restorers and administra-tors of cultural heritage to devise a modern approach to conservation.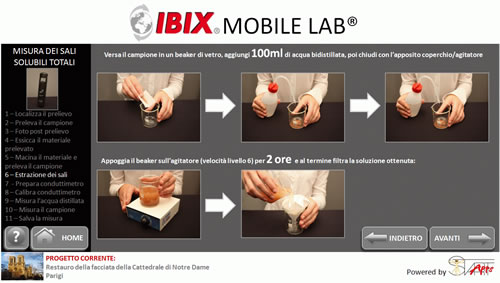 Diagnosis projects are easily managed via simply structured and intuitive software, with illustrative images of the test steps and procedures and a flexible site-related data management system. 


The IBIX Mobile Lab® modular structure facilitates compiling customised reports automatically, thus reducing times and costs at the fact-finding process. Software can be updated via the web at any time. 
 
---
The 'PRINT REPORT' function included in the software that manages the IBIX Mobile LAB is used to create a comprehensive technical report of tests in PDF format, with a simple click of the mouse! The report shows charts and graphs with the results of the analyses carried out per sample; it includes the reference regulations and standards, test conditions, images to locate the collection points, and a guide to understand the readings.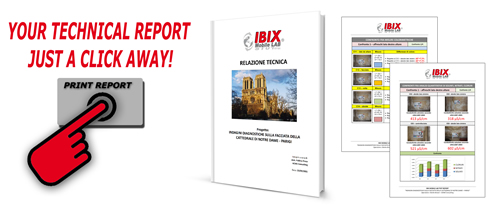 The report can be customised by the user automatically enter the data of the person that performs the analysis, the site data, the pictures and the results of the tests asked to the laboratory via IBIX EXTENDED LAB. All these are downloaded directly from our server as soon as they become available for download. 
The comparisons set among the different measurements are arranged by the software following a graphic format that facilitates reading and interpreting data.